With a Custom Design Website it is created just for your business your website will be different from your competitors. We consider both usability and scalability within a content management system. Our design process is proven, and we have expertise in responsive web design, mobile website design, and e-commerce.
5 Benefits of Custom Web Design
A unique look to match your unique brand

Building your business online is more than just slapping your logo on top. It's not about trying to fit your business and brand in to the placeholders of a template, but build a polished foundation to highlight the uniqueness and sophistication of your business. Your brand sells your business – and your website sells your brand.

Search engine friendly

A custom web design is the product of web experts who hand-craft your site starting from a blank page. Your custom web design is able to have efficient code that is built to make your website fly, and not try to be a big template shell to be all things for all users. Beyond performance, the HTML experts can (and will) utilise industry-standard and proven markup to help boost your site's exposure to search engines, helping your site increase its page rankings.

Focused on your customers

Your business would close its doors if not for your customers. A custom web design can take the needs and goals of your business and build an optimal structure, flow and user experience to help your customers reach that call to action to make a sale, complete a form or pick up the phone.

Stand out from your competitors

The most amazing benefit of competitors is that they give you the opportunity to be your very best, and excel your business one step further. Your custom web design builds a quality presence around your brand, proudly projects your business image to your customers, and helps your business stand out from your competition.

The foundation for an awesome relationship

If you buy an off-the-shelf template, what happens if you need to make a change? A custom web design gives you the opportunity to forge a relationship with a team of experts who can help your site grow. Any time you want your web site to do something new, you have the number to call to hear those friendly voices who you trust, know will be able to help you, and take the stress out of keeping your custom web design engaging and relevant to your business.

Do you want your business website to look like every other website? Or do you want a bespoke custom web design that will help your business be found, engage your customers, and help your business grow?

Never underestimate the power of a custom web design.
Responsive Design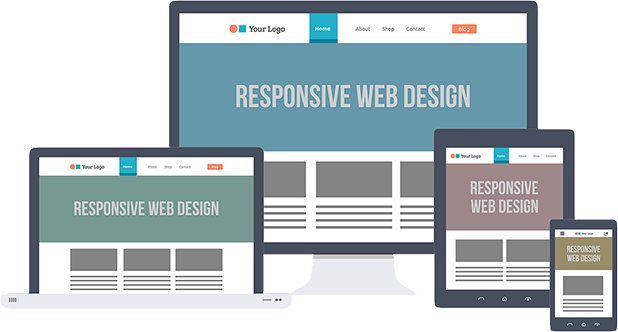 Responsive web design is an approach to web design aimed at crafting sites to provide an optimal viewing and interaction experience—easy reading and navigation with a minimum of resizing, panning, and scrolling—across a wide range of devices (from desktop computer monitors to mobile phones).
Responsive web design has become more important as the amount of mobile traffic now accounts for more than half of total internet traffic. Therefore, Google announced Mobilegeddon (April 21, 2015) and started to boost the ratings of sites that are mobile friendly if the search was made from a mobile device. This has the net effect of penalizing sites that are not mobile friendly.
All custom websites are designed with that technology.
How We Work
Information Gathering

The first step in designing a successful web site is to gather information. Many things need to be taken into consideration when we design the look and feel of your site, so we first ask a lot of questions to help us understand your business and your needs in a web site.

Planning

Using the information gathered from phase one, we put together a plan for your web site. Here we develop a site map – a list of all main topic areas of the site, as well as sub-topics (if applicable). This gives us a guide as to what content will be on the site, and is essential to developing a consistent, easy to understand navigational system.

Design

Drawing from the information gathered up to this point, we determine the look and feel of the custom designed website. Target audience is one of the key factors taken into consideration here. We also incorporate elements such as the company logo or colors to help strengthen the identity of your company on the web site.

Installing WordPress and Development

Once the designs are approved we build the site using the latest technology, ensuring that it is optimized for mobile viewing as well as technically set up for an online marketing campaign.

Testing and Delivery

At this point, we attend to the final details and test your web site. Once we receive your final approval, it is time to deliver the site. We upload the files to your server. Here we quickly test again to make sure that all files have been uploaded correctly, and that the site continues to be fully functional. This marks the official launch of your site, as it is now viewable to the public.

Maintenance

The development of your web site is not necessarily over, though. One way to bring repeat visitors to your site is to offer new content or products on a regular basis. If this interests you, we will be more than happy to continue working together with you to update the information on your web site. We offer maintenance packages at reduced rates.